Arthur Verner
I started recording with Arthur at DMS studio around 2003. He had set up a great recording studio upstairs in an old barn in Clarksville N.Y., 15 minutes outside of Albany. It's a wonderful space to work in. Arthur has great equipment and more importantly knows how to use it. Easy to work with, always a pleasure.
Website: DMS studio.
Phil Montelone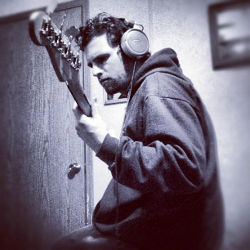 ...visual artist/ bass player/ crazy man...
I met Phil in 2005, or about then anyway. It was Arthur Verner who introduced me to the work of my next collaborator: Phil Monteleone. Phil had just finished the artwork on Arthur's new CD, "Gray Sky Sunday". I loved the layout, so I asked Arthur for his name. Since then I've worked with Phil on every cover and layout I have (check out his covers on my CD page). I think of it as just another positive thing that came out of Artie and DMS studio. Phil is an amazing artist and designer, I am so grateful for his ability and his willingness to share it with me.
Website: Overit Studios.
Terry Moody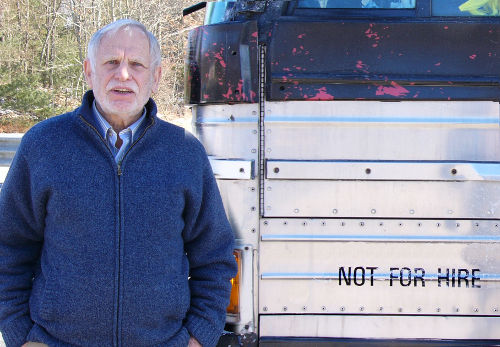 I met Terry Moody through my friend and musical partner Wanda Houston. He and his wife Mary came out many times for our performances. He offered his services in web design. I had heard many stories about Terry, one was how he shot a guy in Reno just to watch him die. But after some investigation, I found out it was his wife Mary who pulled the trigger. Needless to say I felt much better about working with him. As you can see, he did a great job with this site and continues to add to it all the time. Thank you Terry!!!
David Thompson
1982-2016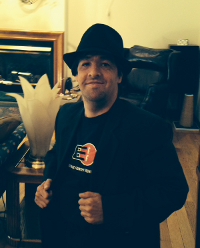 Photographer, editor, all 'round Idea Man....what would I have done without this guy! I found him in Vegas at the Craps table, after not seeing him for over 20 years. There he was, a girl on each arm, a vodka martini in his left hand and a pair of dice in his right.
I said, " Yo Elvis " (that's what I always called him),
"How about coming back to N.Y. and working for Gonzo Music"?
He looked around, kissed all the girls, gave a nod to the table and threw the dice. Before the dice stopped rolling we were headed out the door.
David was the president and CEO of DT Productions. We miss him dearly.
---