Site Map
To buy CDs & Videos, contact Jeff ($10 includes S&H)
email (jgonz777@aol.com): phone (518-366-0209)
---
Yesterdays' News!
Performers (and other stuff) in Jeff's past
(Roughly Chronological)
---
Hi Jeff, best regards from a big fan, Sean Kelly, 2015
I don't know if you remember me, but my wife (Catherine)  and I talked to you the time we visited the Red Lion Inn in Stockbridge in early December. You were gracious to sit down and talk to us for a long time and you gave us several great CD's of yours. We've kind of stumbled upon you several years ago playing at the "Inn" and often hoped you would show up there again when we were in town. Eureka, you were there the last time we were up. I have to say, as probably have said a dozen times that night, that you are one of the best guitarists I've seen and in my many years and I've seen quite a few – especially in the clubs in NYC. You make it look so effortless. We'll follow you schedule on your web page and maybe we we'll meet up again. If your ever in the Atlanta or near Athens Ga. Give me a call. It was a pleasure to meet you. Keep the music flowing and fresh.
---
RNB
Jeff Gonzales & Tony D.
RNB - (SHORT FOR RED NECK BLUES) - is an ongoing jam with Jeff on his acoustic guitar and his old friend Tony D. on harmonica, playing old country and acoustic blues. "Neither one of us is a red neck per say - not saying we don't have red neck tendencies at times - we just thought it really described what we do."
RNB released their 1st CD, Live in Springfield, so swing by the Red Lion Inn and pick one up, or send an e-mail, and I'll send you one! (check my calendar page for when I'll be at the Den).
---
RUNAWAY BOYS

Jeff ~ Bob ~ Adam

It's a three-piece Rockabilly band, with Bob (drums) and Adam (bass) Klein. I play electric guitar for this project. We do both covers and originals and have just released a CD, Live in Albany.We are in the process of finding some time to do an all original CD. With an luck we will start it sometime in 2015. All the songs are written, we just have to find some time.
Adam Klein

Bob Klein

Jeff Gonzales

The Cowboy Song

Blastoff-the song

---
Not Necessarily The Blues
JEFF GONZALES and JOHN RAGUSA
~ the '80s and '90s ~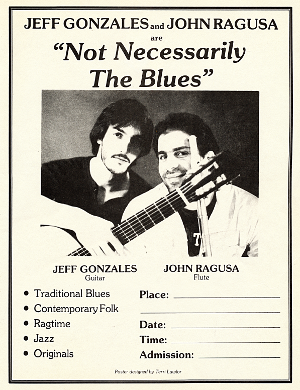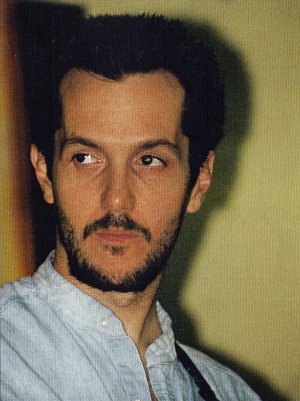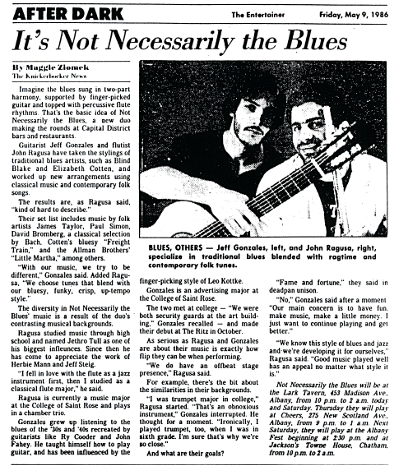 ---
---